Q&A With Ty Pennington
Feb 25, 2019, 15:23 PM
You might be familiar with the term, "Move that Bus!" - Ty Pennington first garnered national attention as the quirky and creative carpenter on the groundbreaking home improvement series
Trading Spaces
. Later, as host of
Extreme Makeover: Home Edition
, Ty helped transform the lives of hundreds while inspiring millions more around the world to volunteer their time to help others. The show, which aired on Sunday nights, was consistently rated among television's top 20 programs and won two Emmys for Outstanding Reality Program. Ty has been recognized as a leader in the field of volunteerism for his work on
Extreme Makeover: Home Edition
and his role with Abode Shelters, an international charity that provides sustainable, humane housing for homeless and impoverished city dwellers.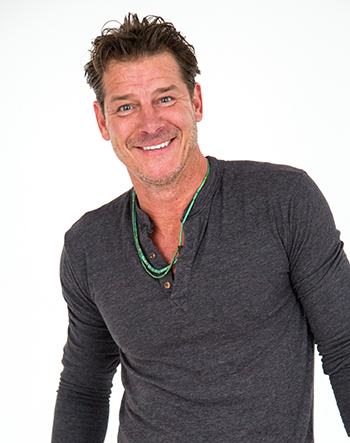 The groundbreaking home improvement series
Trading Spaces
returned to TLC in 2018 after a 10-year hiatus, so viewers have had the chance to get reacquainted with Ty as a carpenter and designer. We sat down and asked Ty a few questions prior to his appearance at the Cincinnati Home & Garden Show. Enjoy!
Q: What is an easy DIY project homeowners can tackle to improve their space?
Ty
: "Painting is the easiest DIY, with the most visual impact, whether you do one accent wall or an entire room. A pop of color makes a huge transformation."
Q: What is a common mistake homeowners make when they take on a home improvement project?
Ty
: "Thinking they can do the tough stuff on their own. When it comes to plumbing, electrical, or heavy-duty construction, call in the pros!"
Q: What project have you been most proud to work on?
Ty
: "Aside from the nearly 300 homes we built for
Extreme Makeover: Home Edition
, it's the house I designed in Florida for my mom and me."
Q: Where do you go online to find inspiration?
Ty
: "The Instagram search page."
Q: What's something that folks should do when working with a contractor or interior designer?
Ty
: "Stay in control, ask questions, don't be afraid to state your opinion, be true to your vision for the project, and stay realistic with your goals."
Q: What are your best outdoor decor tips?
Ty
: "Keep it simple and natural. Good lighting goes a long way."
Q: If you had to move to another country, which one would you choose and why?
Ty
: "That's tough. Either Japan, where I lived when I was in my 20s, or Germany, where I lived when I was a kid. I love both countries and they feel like home."
Q: Fill in the blank: The three things I can't live without are ____________.
Ty
: "My camera, good Thai food, and friends and family."
Q: You've been interviewed many times. What is the one question you always wish someone would ask?
Ty
: "Tell me more about your modeling career!"
Ty Pennington will take the stage on Saturday March 2nd at 1pm. Ty will be signing autographs following his presentation, so be sure to stick around the Main Stage to get in on the fun!


FEBRUARY 23-24 + FEBRUARY 28-MARCH 3, 2019.
DUKE ENERGY CONVENTION CENTER